GymSock17 was a player of Minecraft Planet Earth.
Gym joined the server in late March, 2015. Justinjacob was on at that time, and he invited GymSock to the city of Bangkok. When he joined he asked justinjacob if Bangkok was located in its real life location on a map of Earth justin said it indeed was. Gymsock liked the town, so he stayed. He began his first construction project, which was the Brewery, which justinjacob commissioned after he found many brewing stands in Manila, and needed a use for them. He then started the metro, and built a station under the National Library of Bangkok, which was unfinished. He also provided dirt to New London, which was bombed by SpideyBren2000. He built himself a trade shack, and also claimed 2 outposts for Bangkok, one in Chicago and one in Darwin. He lived in his town of Rhodes until the server closed, inviting all the people he possibly could.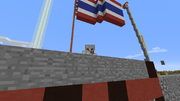 GymSock17 was usually a quiet player, guiding his personally-known friends on the server such as emmettmaster and PirateKing147, as well as yellowrockerman, through the perils of Earth. He is usually was Rhodes or one of it's fellow states and territories.
The Unknown
Edit
GymSock17's base was filled with artifacts from other cities and events from all across the server. Many of these items would never see sunlight again.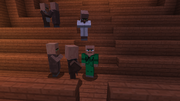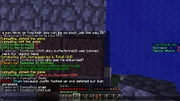 GymSock17 doesn't look for enemies, he tries to make friends with everyone, even if he doesn't necessarily like how they act. He has many people on the game who he considers a friend or at least in good acquaintance with. Here is a list of those people:
yellowrockerman
smasherman4765
Agent_Omega
Eice6 (now known as EnderIce6)
hot_shot17
anyone who is willing to be a friend
Gym Today
Edit
Since the closing in MCPE, Gym has settled in another server similar to MCPE. Ruling an island in the Pacific, he invites all of his MCPE friends to contact him on Enjin and join his town.