This is a list of ALL the towns that existed in the server, before the Reset and after it, currently and disappeared towns, settlements and metropolis. It is not complete.
Bold = Towns that are on labeled maps
Italic = 1st World Towns (Pre-1st Reset)
Italic + Underline = 2nd World Towns (Pre-2nd Reset)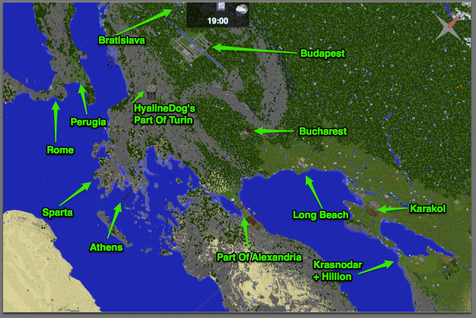 Old London (Staff town before the Reset)
Marseille
Moscow
Bucharest
Netherlands
Paris
Stockholm
Bigred
Denmark
Novi-Sad
Perm
Dublin (Irish sector)
Sparta
Lithuania
Kiev
Minsk
Boston (In Sweeden)
Stormia
Budapest
Long Beach (Black Sea)
Krasnodar (on old Hillion)
Oceanstone (North Korea)
North America
Edit
Ohio
Dublin (Alaskan and American sectors)
Atlantis 2.0 (Chunk Error)
Moctezuland
Villars
Seattle I
Enclave
Mexico-Tenochtitlan
CryTech
Capecod
Flint
Cleveland
Denver
NewPort
Riverbrook (Nova Scotia)
Elmore
Camelot
Razgriz Citadel
Tijuana
butters_vilage
Springfield
Thicketville
Juneau
Clinton
Central America and Caribbean
Edit
Atlantis 1.0 and 3.0.
Bahamas
Nassau
Caribbean Islands
Cuba
NewWashington
Hispaniola
Pirate_Cove
South America
Edit
Spanish Empire (Madrid)
Amazonian Geets
Brazilia
Shield
Memorial
Protoss base
Jerusalem (South America)
[PirateBay]
Atlantis (Spidey`s, 4.0)`
PeaceBringers
Bandits
Sierraevo
Pampas Village
Tropical Islands
Tierra del Fuego
He is live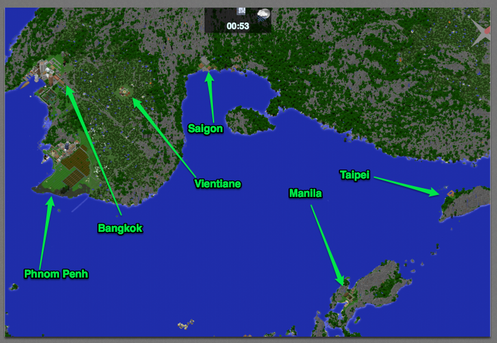 PyonGyang (Korea)
Old Tokyo
Bishkek
Astrakhan
Dushanbe
Babylon
Abu Dhabi
Dubai
Shanghai
Puerto Princesa City
Sri Lanka
Saigon (Vietnam/Ho Chi Minh City)
Surgut
Manila
Seoul
EastIndia
Cheyenne
Ulaanbaatar
Baku
Imperial Japan
Revolution (Siberia)
ReignOfTheEmperor
Taipei
Spidrotech
HeavenBorrow
Humble
Lalaland
Melbourne
New Zealand (Auckland)
Perth
Rainbowbarfingunicorns ("Yes, this was a real town, I visited it before it went bankrupt.") - OwlCharles
Tasmania
Atlantic
Edit
Unknown or Undisclosed Locations
Edit
RoyalEmpireApollo
Island of Solitude
Santa Fe
Tlanex ?
Illuminati
Island of Dirt (Before September reset)
Ad blocker interference detected!
Wikia is a free-to-use site that makes money from advertising. We have a modified experience for viewers using ad blockers

Wikia is not accessible if you've made further modifications. Remove the custom ad blocker rule(s) and the page will load as expected.