Town Info
Edit
Chicago was founded on February 14th, 2015.
Former Citizens: OwlCharles, Ulaaax, Xavierz, MC_Brendan, xXCookieSanXx, djadventurer, polar_vision, Tactical_Wither, Jugswe, Bearhallow, white2325, Jdouble0100, Angel_Wings4781, orangebull05, God_Of_The_Celts, Fire_Bre4ther2, Dragonmutiny, Mr_Manning, ChocolateyMC, xXFuryGamesXx, Caseyrulez, MajorPAIN40, GhonaSiflaids, Ender4003, The_Derpy_Chica
Assistants: OwlCharles (Mayor), MajorPAIN40
VIP's: OwlCharles (Mayor), MajorPAIN40
---
Mayor: OwlCharles (Rahm_Emanuel)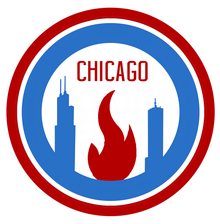 Nation: Ecumenical Empire
Nickname: The Windy City
Outposts: 4
Flag: USA Flag
Flower: Sunflower
---
Landmarks/Notable Buildings
Edit
Willis (Sears) Tower: Currently holds the title of "World's Tallest Building" at an elevation of 202 Blocks and 133 Meters. Built by OwlCharles and Jugswe.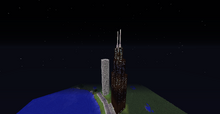 The AON Center is 85 Meters Tall and stands at an elevation of 154 Blocks.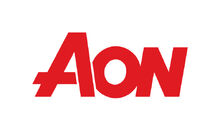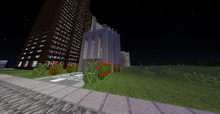 The Chicago National Museum was constructed February 6th - February 7th, 2015. It contain a wide range of artifacts including 1 piece of Mendoza Bedrock, and Enderdragon Egg, an Allium, F1sh98's Head, and the first Chicago Flag ever made.
Flair Tower is the former "World's Tallest Building" and was moved from Darwin to Chicago and renamed. It is 123 Meters tall at the tip of the spire and 102.5 Meters tall at the roof.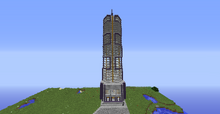 Chicago City Hall includes 2 floors with redstone lighting that automatically turned on at night and during dark weather, a Meeting Hall, and a "Green" roof or a Garden roof.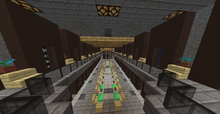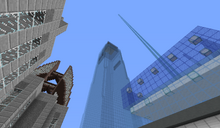 The Comcast Center Building (never completed) was a modern skyscraper being built by MajorPAIN40 based of the real life building in Philadelphia, Pennsylvania, USA.
NATO Headquarters was built by OwlCharles and served as the meeting place for NATO Parliament.
Ad blocker interference detected!
Wikia is a free-to-use site that makes money from advertising. We have a modified experience for viewers using ad blockers

Wikia is not accessible if you've made further modifications. Remove the custom ad blocker rule(s) and the page will load as expected.